If I Had $100.... Etsy Link Up
Hi Friends! One of my blog buddies, Allyce of Anchors the Soul, is hosting a fun link up and I thought I'd play along! Twice a month she scours Etsy to share what she'd spend $100. I think it's a great way of promoting fellow Etsy sellers and also see what everyone would spend their money on!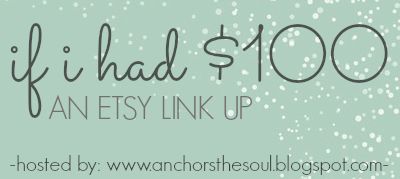 001. Make it Happen Calligraphy Print - $20
002. Yellow Bow Shoe Clips - $12
003. Beagle Beer Brewing Pring - $39
004. Doctor Who Bookmark Set $8.47
Grand Total: $100.47.
Oops! I went a little over.
What would you buy on Etsy if you had $100? Feel free to link up and share your haul!